Current Mission: Home, Sweet Home
BREAKFAST IN AIX May 31st 2009 @ 8:12am
Mission: Cote d'Azure

We awoke bleary eyed in our subpar and slightly stinky hostel. Skipping showers in the sketchy bathroom we headed downstairs for breakfast. Breakfast was yogurt, stale bread with laughing cow cheese and coffee in bowls—a concept which blew our minds, but that Tollef insisted was normal practice in Europe.
We tried unsuccessfully to leave Aix-En-Provence, first getting lost and then returning for a forgotten sweatshirt, but finally we were on the road—and we had a new plan. Forgo our trusty GPS navigator in favor a more traditional road atlas. Something I think was missing from our trip this whole time.
With a GPS unit it's less of a roadtrip and more of a series of destinations, there is no possibly of error and nor awareness of the regions you are driving through. Of course the GPS is good for getting us places quickly when we need to and for helping us find the correct roads, like this morning when we were incapable of leaving Aix-En-Provence.
Once on the road the drive was a joy. Turns out the French Riveria is quite beautiful. Navigating by atlas we were able to take the much slower coastal road to catch some epic views of the deep blue Mediterranean Sea.
A hunger emergency was quickly upon us and we promptly stopped to eat and to take in a little closer view of the new seaside sights. Jez and Tollef had some subpar muscles, while Skot and Alex enjoyed some surprisingly tasty pizza, best of all the restaurant had giant Juplier signs!!
ARRIVAL IN ANTIBES
May 31st 2009 @ 4:00pm
Current location:
7.126608, 43.58207
Mission: Antibes
From there we continued our steep wind against the edge of the Mediterranean—our van barely clinging to the narrow road as we hung on for dear life. Well, not exactly. The Transit is decently equipped for such terrain. We did however contemplate what would happen if the van were to roll off the edge. Would we all parish? Would some of us survive? Alex was insistent we would all die, but Tollef was a bit more optimistic, thinking that at least a few of us would survive. Best not to find out who was right.
As we rolled through all the small resort towns we understand why generations of French families had been coming here for vacations—It is absolutely beautiful. Though we were getting a bit of Venice Beach vibe from all of the crowds, hotdog booths and jet skis that dotted the beach. We trekked on towards Antibes in search of something a little more "Big Sur," if you know what we mean.
Antibes was just that. A classic old French town with an old world pedestrian core just minutes from the water.
We found a parking lot right by the water and broke off into two teams, one in search of a fine bottle of wine to thank Nicole for getting us the key to the apartment and another in search of Nicole. Alex and Tollef met Nicole at the train station and introduced themselves with their best French accents. From there they all went to see the apartment—which was a bit of a surprise.
In passing the apartment had been described as a studio, but we had never thought about what that might translate into in actual space. Up 3 flights of tile stairs we found our home in Antibes—a studio apartment with barely enough room for the five us to stand up, let alone sleep. On top of that the apartment hadn't been lived in for a year so it had a certain odor of uninhabitance. But we didn't care a bit, because we were in Antibes and this places was free—AND in the heart of old Antibes minutes from the water. We slide one mattress out from the other and the double bed became a bed for five, and there was even a moka pot for some morning coffee.
The best part about the apartment was that it had roof access. The worst part about roof access was that the roof was already occupied, by a family of seagulls. For every minute we spent on the roof three seagulls hovered above, occasionally dive-bombing us and squawking the whole time. Their baby seagull was on the other side of the roof, and they surely did not like us enjoying some fine French wine and taking in the views so close by.
We found some cheap eats in town, recommend by some New Zealanders staying in the apartment next door. The first hamburgers we had had since leaving the US, so fine! Afterwards Skot, Alex, Emmett and Pete had a rousing series of card games while Tollef caught up on sleep.
MONACO!
June 1st 2009 @ 7:11am
Current location:
7.425621, 43.740267
Mission: Monaco
Beverage: Martinis
This morning while Pete, Alex and Skot headed to the beach for a day of relaxation in the sun, Jez and Tollef headed out in search of moped rentals. We struck out pretty quick because for some reason all the moped rental shops were closed, probably off taking siestas or something—we're still figuring out these European store hours.
In lieu of moped rentals we decided to check out the fine city—errr fine COUNTRY of Monaco. We bought ourselves €12 1st class tickets to Monaco and headed out!
Aboard the high-speed, ultra-silent eurotrain we enjoyed a traditional train meal of camembert, salmi, a tallboy of Leffe and a baguette—all while enjoying the fine oceanside views of the French Rivera. The train took us though Nice and several other small towns on our way to Monaco. New Order bassist Peter Hook's side project, aptly named Monaco was the soundtracking coming from Tollef's iPhone as we arrived at Monaco station.
We had expected a glorious entrance into the country of Monaco. One of parading yachts, chiming slot machines, Grand Prix cars and James Bond impersonators. But alas, the Monaco station was 14 stories below ground. After several navigational errors we managed to exit the train station through the parking garage, a most anti-climactic entrance into the fine country of Monaco.
Nonetheless we got our bearings quickly and headed towards the Monte Carlo Casino. The Grand Prix had taken place a week before, and the streets of the city were still lined with guard rails and sponsor logos. Tollef jumped in the street for a quick Grand Prix renactment—on foot.
We didn't really know what to expect from Monaco or Monte Carlo. Our only conception was from Bond films and wikipedia. We imagined a land of ultra-rich-classy-casino-going-yachtowners galavanting around a vertically-oriented Mediterranean city in absurdly expensive foreign automobiles.
Turns out our conception was pretty right-on.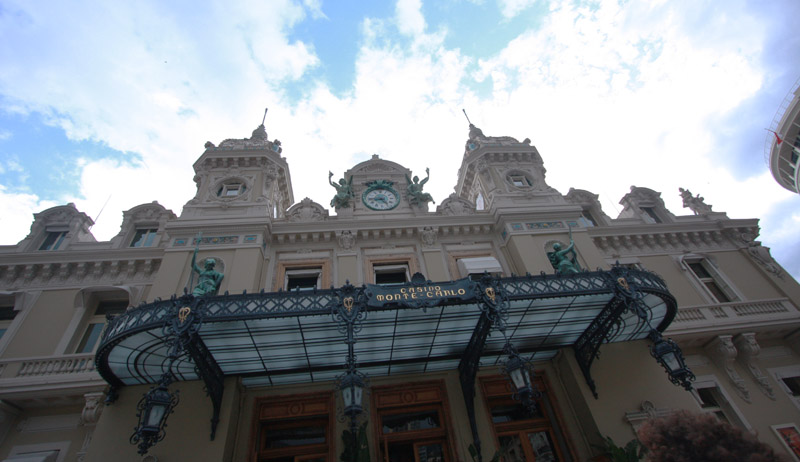 Parked outside the Monte Carlo casino were an assortment of ridiculous cars; Bentlys, Ferraris and the odd Smart Car. The Casino itself was mobbed with tourists taking photos outside, but very few of them were inside due to the €10 entrance fee. Wanting to fully experience the world's most famous casino we ponied up the €10 and ventured into the ridiculously ornate gambling halls.
The inside of the casino could not be more different than vegas- the small number of slot machines made no ridiculous dinging sounds, and the 6 or 7 roulette tables felt quite classy under the gloriously frescoed ceiling. Unfortunately the casino was primarily populated by patrons of the huge american cruise ship docked in the harbor, which returned a bit of the vegas-like air to the casino. We enjoyed Martinis (stirred not shaken) in the casino bar, bought €5 roulette chips, and ventured back out into the city.
The cities' yacht harbor can be seen from most every point in Monaco (probably beacuse it takes up nearly half the city), so we had no trouble finding a way down off the hill to gaze upon the world's most gratuitously opulent vehicles. We walked past row after row of personal cruise ship; some with hot tubs on the back, some with jet skis hanging off the sides, and before long we were longing to sail the open seas on the boat of our own. But who would take us for a ride on the seas? Would it be a friendly local yacht owner, or perhaps someone who had sailed their yacht from an exotic foreign port? After a few minutes of searching, we found just the yacht for us, and we finally got to experience life on the open seas of monaco.
Monaco's most affordable boat! a steal for €1, and it took us from one side of the harbor to the other! Just where we wanted to be.
From there we wandered around a bit more, taking in the view as the sun began to set behind the Monacan hills, and soon were overtaken by hunger, and a desire to return to a simpler way of life. From the hill we took a last look at the harbor and pondered how so much wealth could be focused in one spot and spent in such cliché and uncreative ways.
We headed back to the train station, rushing to send a few post cards with the novel monacan postmark on it before barely making the train to Nice, where we hoped to find a restaurant more our style.
NICE DINNER IN NICE
June 1st 2009 @ 5:37pm
Current location:
7.275696, 43.69751
Mission: Nice
We disembarked in Nice and found the town to be eerily silent as we wandered the streets in search of a suitable restaurant. We were soon approaching what we thought to be the old centre of the town, the streets were growing narrower and narrower, but were still empty.
As we rounded a tight corner suddenly there was an eruption of humanity. The tiny street we were now on was alive with boisterous restaurants and countless diners in the streets consuming the most delicious looking French cuisine—we had found the heard of old Nice, and apparently where all the people are.
Not wanting to settle on the first restaurant we saw we wandered the narrow streets in search of the one that just felt right. We came upon Chez Mémére, which seemed to have just the right combination character and tasty looking dishes, and on top of that almost everyone was eating some sort of dish that was cooked in giant clay jug! This was the spot for us.
We got a table and perused the Nichoise menu, quickly settling on the jug of seafood stew that everyone was eating. Jug for two, assortment of Nichoise appetizers and a bottle of white wine—perfect!
As it turned out the restaurant was located right next to a men's underwear shop that was apparently having a grand-opening fashion show of sorts. All the while we dined there was a parade of scantily clad men taking place behind Tollef, ah, Nice.
The jug of fish was delicious and we found ourselves guessing at what each of the ingredients were. Mussels, prawns, calamari, one fish, two fish, red rish, blue fish—all tasty!
After dinner we caught the last train out of Nice and back to our cozy studio in Antibes for a fine slumber.
THE LIMIT June 2nd 2009 @ 8:56am
Mission: monte rossa
Current music: the limit

HIKING THE CINQUE TERRA
June 2nd 2009 @ 5:00pm
Current location:
9.740753, 44.10657
Mission: Riomaggiore
Having immensely enjoyed waking up with a swim in the Mediterranean in Antibes, we were excited to try the same in Monterosso. Skot was so excited about this that he slept in his board shorts to allow the shortest possible gap between waking up and diving into the sea. Not everyone had quite the morning enthusiasm of Skot, but everyone but save Tollef made it down to the water for a refreshing wake up swim. The water in Monterroso was much clearer and cleaner than that of Antibes. If we had had goggles it would have been an amazing place to snorkel.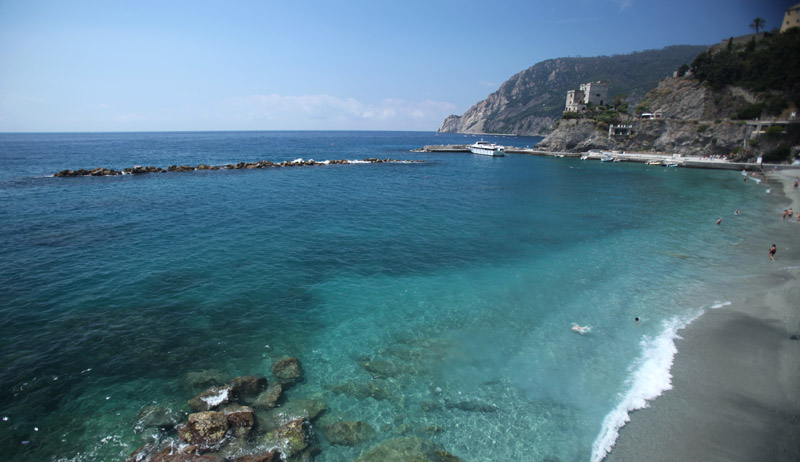 fter our swim we gathered our hiking gear and headed down to the piazza to meet Heather, who was joining us for part of the hike.
Montorosso Al mar is a very small town, to the point where it seemed Heather knew everyone in town. At breakfast she knew the waitress and ordered in Italian for us– creme filled crossiants and espressos—the perfect pre-hike power meal.
rom there we set out on our epic hike, winding around the base of the mountains towards the entrance to the trail. The entrance is marked by a small shack run by the Italian park service who controls the Cinque Terre Parko Nazionale, we paid our €5 hiker's fee and started on the vertical trek.
The first leg of the hike from Montorosso to Vernazza is the longest and most intense. While the first few steps of the hike and are on relatively flat land, the path quickly turns into a a series of increasing vertical cobblestone steps that took us up the mountanside. Walking up we passed through gardens, vineyards and ad hoc olive tree orchards in the back yards of Cinque Terre residents.
We came across a meandering and intricate miniature rail system of sorts. It climbed the mountainside and wound through orchards and vineyards, seeming used for the easy transportation of grapes and olives up the mountains.
While we felt that we had avoided the busiest of the tourist season, the trail was still bustling with hikers. We often found ourselves on the narrowest of cobblestone walkways trying to negotiate safe passage with other non-english speaking hikers. Passage was perilous but everyone in our party survived.
Coming down the hill into Vernazza was a relief. We knew that the toughest part of the hike was over and that refreshing beverages and Mediterranean swimming awaited us in the city below. We proceed immediately to the water and dove into the crystal waters. Afterwards we stopped for panini's and sangria, at a cafe where of course Heather knew the owners.
Pepped up on sangria and Italian beer we were now surely prepared for the next leg of our journey! While this next trail was shorter it closely matched the last trail in steepness. Not content with the trail shown on the map, and longing for some seaside relief from the sweltering heat, we followed a hand written sign off the main trail towards "beach"
There we were surprised to find a nude beach, populated almost entirely by nude men sunning themselves. undeterred, we sought the sweet relief of the sea and dove into the water. We splashed around for a while until we had enough energy to hike back to the trail that we broke off from. Back up the sketchiest trail yet we met up with the main trail and hiked into Corniglia.
Here we stopped for milk shakes and granitas—the finest Italy had to offer. Alex had two thirst-quenching coconut milkshakes while Tollef heavily contemplated a second strawberry granita. We trekked on.
the fourth town Manerola proved to be a swimmer's paradise, with huge rocks that Skot and Alex practiced their synchronized diving from.
We weren't in the town for long, as we wanted to make it to the 5th and final town for sunset and possible dinner and it was still a ways away—but a flat path.
The last town of Riomaggiore is absolutely beautiful, especially at sunset. We took countless postcards photos by the water and perused the towns few restaurants for dinner options.
Hoping to shower off the sea before they dined Pete and Alex caught a train back to Montoross, while Tollef, Skot and Emmett settled in for a sunset drink before dinner and one of Riomaggiore less fine restaurants before catching the train back to Montorosso. Pete and Alex dinned at a restaurant in Monterosso that Heather recommended. Their meal consisted of mellon draped in pruciutto, black and white pasta with mussels, farfalle (bowtie) pasta a bolognese sauce, and veal with mushrooms. All which was not only excellent but cheap.
THE NIGHT.
June 3rd 2009 @ 12:12am
Current location:
9.740753, 44.110514
Mission: Monterossa
Beverage: Grappa, beer, wine, etc.
After refreshing showers and clean clothes back at the apartment we met up with Heather, who had just gotten off work and was psyched to hang out. We met up at Fast Bar, the quintessential backpackers-style bar in the middle of town. We started off with a few Guinness before we got an open table and settled in for the night.
At Fast Bar the walls are covered with movie posters and currencies of the world emblazoned with the remarks of previous travelers and patrons of Fast Bar. Inspired, we got a marker from the bar staff and quickly pinned our American one dollar bill to the wall, displaying the five of our names and the address of this glorious blog. What we didn't know was how central to the remainder of the evening that marker would prove.
Details are still a little fuzzy on how things got started and the total number of grappa shots consumed, but by the end of the night we each had about five drunken sailor tattoos of varying nautical and maritime themes. While Tollef was perhaps most pleased with his "THE SEA" tattoo, Pete was visibly displeased with the "FISH PARTY" inscription surrounding the horrendous depiction of a mermaid now marker-tattooed onto his bicep.
Not content with our masculine displays of nautical acumen and maritime prowess, the evening took a turn towards arm wrestling. It started with Alex vs. Skot in the bar and ended with Emmett winning the Cinque Terre Arm Wrestler's belt in the final rounds taking place back at the apartment.
A MOST DIFFICULT MORNING
June 4th 2009 @ 2:54pm
Current location:
9.08535, 45.830952
Beverage: water
Waking up this morning was rough. Not only did none of us really want to get out of bed, but the cleaning lady was on her way and we all had to be out of the apartment in about 30 minutes. On top of that, somehow all of our clothes had made their way into the washing machine last night, and were now all soaking wet.
We rushed to gather our things, wadded up our wet laundry into a bag and headed to the van. When we got to the van to load it full of our soaking and stinky laundry we were stoked to find a parking ticket! Skot & Emmett: The Dynamic Parking Duo, who you may remember from such previous episodes as Getting Towed in Barcelona, had done it again! The ticket was only €36, much better than the bill in Barcelona. Nonetheless Skot & Emmett's parking privileges now required adult supervision.
We wandered back into Montorosso to say goodbye to Heather and see if she could pay our ticket if we left her the appropriate amount. We met her a the hotel where she works and she gave us a bottle of homemade olive oil from her boyfriend Bruno's family and expressed her willingness to help out with the ticket.
We said our goodbyes, thanked Heather for a fantastic time in Montorosso and headed off to find some lunch. Afterwards we wandered around the town a little more, bought some souvenirs, sent some postcards and headed back to the van.
Before we left we devised an elegant system for hanging our wet laundry all over the van, so as to dry the clothes while enhancing the aroma and overall freshness of the van. Alex took the reigns of the van and we wound up the absurdly windy mountain road out of Cinque Terre. Nothing feels quite as unpleasant as a curvaceous one lane mountain road on a belly full of the previous nights grappa shots and inadequate sleep.
Our energy levels were pretty low, so we pretty much booked it all the way to Como. We stopped at a huge CarreFour market en route and stocked up on prosciutto, choclate biscuits, and cola bottles.
Como is a fine city. Built around Lake Como and seemingly an ideal setting for a resort community of sorts, but it is none of that. Como has the feel of an honest and habitable city. A city that just happens to rest at the edge of supreme beauty—where forested mountains greet a wondrously serene lake, that is where Como is nestled .
We met Alex's family friends, the Resetlli's: Wanda, Renato, Olivia, Nicola, Jakobo, Sicilia, our new Italian family! They were absolutely fantastic welcomed us into their 18th century villa for a fine home cooked meal! Spaghetti Bolognese, salami with three cheeses and fruit salad! A delicious meal, in a wonderful home of an amazing happy family; something we will not soon forget!
After dinner we headed over to the hostel Wanda had booked for us. We checked in and spent the last hours of the day checking email, and attempting to catchup on posts (fail). In the morning we take Milan!
This morning we had breakfast at the hostel. On the Hosteling International International Scale of Hostel Breakfast Quality, this hostel ranked the lowest. Breakfast consisted of one loaf per person and some assorted jams. The coffee however, was excellent, some of the finest so far.
Our walk from the hostel to the lake front took about 5 minutes. We followed the edge of the lake in to town and towards the train that would take us to Milan. About an our later we were in Milan.
Tollef had read that The Last Supper was permanently housed in Milan and that even though you need tickets in advance there was a slight chance or seeing it day off. Hoping to catch a glimpse Tollef and Emmett headed off, while Pete, Alex and Skot headed to the center of town to check out the crazy-old gothic cathedral.
Tollef here. Last Super was a bust, Emmett and I rolled in, but there was a big sign saying sold out for a week. We asked the staff there if there was any chance to see it, but they just shook their heads. We contemplated sneaking in and went to the waiting room with the next tour group. It was there we discovered that each individual had a barcoded ticket for a precise time. Damn! We'd have to get all Robert Langdon style if we wanted to see this super secure seventieth century site.
Crestfallen, we headed to another part of town rumored to be a hipster shopping district—according to wikitravel. It wasn't quite the hipster we were expecting, but we wandered in some shops and then stopped in Cafe Noir for a snack. The menu was in Italian, and it was a bit difficult to understand. We decided to order Piadinis, and narrowly avoided ordering one with horse prosciutto in it. The verdict is that Piadinis are Italian quesadillas and at this particular place quite unremarkable.
After lunch we followed the hipster street for a ways and it led us towards the Duomo in the center of town. Being as it is the largest gothic cathedral ever built, we'd thought we should pop in. It is indeed quite large, spacious, cavernous, cave-like. We ran out of adjectives to describe it and instead just wandered around and admired it.
For €3 you can climb the stairs up and then walk on the roof. From there the views of Milian are quite fantastic—and then it started to rain. But that was okay, because we were on top of an the epic marble roof of the largest gothic cathedral in the world, in the middle of Milan. We took some rainy glamour shots and then headed for shelter.
We sheltered in the nearby galleria, home to many of Milan's high fashion boutiques. If there is one thing we learned from Kanye on this trip it was that he shopped so much he could speak Italian. This didn't really work for us so much, but we didn't really do any shopping. But we did take some more glamour shots in the galleria.
Despite all the glamour shots, the cathedral, the momentary prospect of Emmett eating horse prosciutto, hipster alley and the galleria, I was still saddened by our inability to see The Last Supper. I wanted so badly to gaze upon DaVinci's 29 ft. wide masterpiece.
We headed back to the super secure site of The Last Supper and tried to persuade another staff member to let us in. Still no luck. We wandered around the back of the building and found the gift shop, where all those who have just gazed upon the painting end up. If we snuck through back through the door they were coming from, then maybe we could catch a glimpse! Alas, it was not be. The staff from the front desk could see the entryway and saw us prowling it. One more step and we would surely go instantly to Italian jail. We headed back to the train station to meet Alex, Pete and Skot and head back to Como.
MISSION MILANO June 5th 2009 @ 11:22am
Mission: Milan, Italy

Alex here, Skot, Pete and myself began our trek of Milan from the popular Duomo square. While withdrawing cash money euros, I spotted two long queues for a lunch spot, so we decided it must be good if it warrants two lines filled with local businessmen, kids on summer break, and the occasional tourist. We were unsure what we were in for, but we could see patrons exiting with wax paper bags containing small calzone type sandwiches later determined to be called Panzaroti. The line moved quickly and soon we were at the fast moving counter. Pete got a spicy salami and ricotta with spinach, Skot got a tuna with corn and a ricotta with spinach, and I got a tomato with mozzarella, but I should have ordered two since they were pretty small. Skot declared the warm tuna, corn and cheese Panzaroti the best thing ever and wished he had ordered 5.
We headed back to the Duomo square to experience the cathedral. We saw that no one was in the rooftop queue so we took the opportunity to climb to glory before entering the enormous building. And climb to glory we did. The spiraling staircase seemed endless as we climbed what felt like an endless loop. Finally the narrow spiral opened up to a massive, ornate rooftop. Rooftop is somewhat of an understatement. Elaborate marble sculptures and decorations adorned every possible surface, buttress, and spire. We were mind blown by the thousands of statues, motifs, and flowers. No two statues were alike and every small arch had a unique flower pattern. We explored the rooftop pathways which led us to peak of the roof, the perfect vantage for taking in the views of Milan, which had a relatively low skyline, unobscured by high rises and apartment towers. Construction workers were constructing an amazing stage on the roof while we were up there. What a venue!
We headed back down via a high speed, high tech elevator and explored the interior of the expansive cathedral. The interior was simple in comparison to roof and outside walls. The floor had a basic flower pattern made of hard stone that had beveled over time due to foot traffic. Incredibly detailed stained glass panels filled the towering windows. It was big.
After a proper dose of church, we set off for hipster shopping area. Ping-ponging down a street checking out clothing shops. We had a few nostalgic San Francisco moments when we saw the old Milano street cars roll by, as San Francisco has a number of the same ones on the Market Street F Line. Also bearing striking similarity to San Francisco was the contents of the hipster shops. Hipster road left us empty handed in our quest for style, but we did have some delicious gelato.
Walking back toward the meeting point, we came upon a nicknack shop. I'm not sure how else to name it. The window had about 634 items in it and the rest of the store was shelf after shelf of stuff. Everything from miniature gnomes, antique lighters, ornate canes, small drinking vessels, ceramic figurings, wooden toys, rusty tools, and even the owner's marble artwork. The owner didn't know much english except for "Magnificent!" which he repeated to us over and over. Pete purchased a cute little panda and pink giraffe with purple dots.
We soon found ourselves back underneath the engraving "Tomaso Edison" at the crazy big train station in central Milan. A few moments later Tollef and Emmett walked in and we caught the first train back to Como. Oh... of course we rode 1st class. That's how we roll.